In this intimate book of inspiration, perfect for the holidays, Tyler Perry writes of how his faith has sustained him in hard times, centered him in good times, and enriched his life.

Higher Is Waiting is a spiritual guidebook, a collection of teachings culled from the experiences of a lifetime, meant to inspire readers to climb higher in their own lives and pull themselves up to a better, more fulfilling place.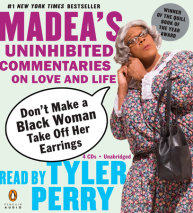 Unabridged CDs - 4 CDs, 5 hours

The bestselling first book from the creative force known as Tyler Perry. a confessional memoir in the voice of Madea-the beloved, sharp-tongued, worldly-wise, pistol-packing grandma who is at the center of his popular stage shows and the star of his number-one hit movie, Diary of a Mad Black Woman.