THE #1 INTERNATIONAL BESTSELLER!A timeless business classic, Who Moved My Cheese? uses a simple parable to reveal profound truths about dealing with change so that you can enjoy less stress and more success in your work and in your life.It would...
Told in the parable style of The One Minute Manager, RAVING FANS uses a brilliantly simple and charming story to teach listeners how to define vision, learn what a customer really wants, institute effective systems, and make Raving Fan Service a cons...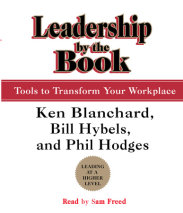 Best-selling authors Kenneth Blanchard, Bill Hybels, and Phil Hodges offer a unique, compelling, and paradigm-shifting model that effectively interweaves successful leadership methods with character development principles based on the teachings of hi...