NEW YORK TIMES BESTSELLER • Trailblazing food writer and beloved restaurant critic Ruth Reichl took the job (and the risk) of a lifetime when she entered the high-stakes world of magazine publishing. Now, for the first time, she chronicles her g...
NEW YORK TIMES BESTSELLER | NAMED ONE OF THE BEST BOOKS OF THE YEAR BY Los Angeles Times • NPR • Men's Journal • BookPage • Booklist • Publishers WeeklyIn the fall of 2009, the food world was ro...
In her bestselling memoirs Ruth Reichl has long illuminated the theme of how food defines us, and never more so than in her dazzling fiction debut about sisters, family ties, and a young woman who must finally let go of guilt and grief to embrace her...
Bestselling author Ruth Reichl examines her mother's life-and gives voice to the unarticulated truths of a generation of exceptional women A former New York Times restaurant critic, editor in chief of Gourmet, and the author of th...
GARLIC AND SAPPHIRES is Ruth Reichl's riotous account of the many disguises she employs to dine anonymously. There is her stint as Molly Hollis, a frumpy blond with manicured nails and an off-beige Armani suit that Ruth takes on when reviewing Le Cir...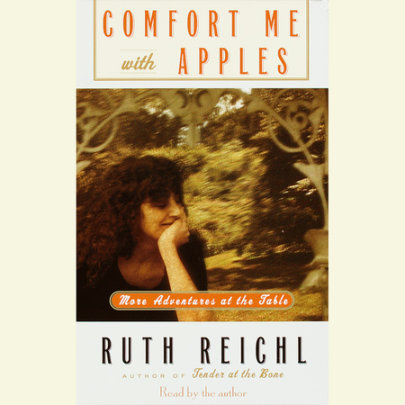 In Ruth Reichl's latest book — one that will delight her fans and convert those as yet uninitiated to her charming tales — the author brings to life her adventures in pursuit of good meals and good company. Picking up where Tender ...
At an early age, Ruth Reichl discovered that "food could be a way of making sense of the world. . . . If you watched people as they ate, you could find out who they were." Her deliciously crafted memoir, Tender at the Bone, is the story of a life det...