A masterful, timely, fully authorized biography of the great and hugely influential biologist and naturalist E. O. Wilson, one of the most ground-breaking and controversial scientists of our time—from the Pulitzer Prize-winning author of The Ma...
What do Hedy Lamarr, avant-garde composer George Antheil, and your cell phone have in common? The answer is spread-spectrum radio: a revolutionary inven­tion based on the rapid switching of communications sig­nals among a spread of different ...
The culminating volume in Richard Rhodes's monumental and prizewinning history of nuclear weapons, offering the first comprehensive narrative of the challenges faced in a post–Cold War age.The past twenty years have transformed our relati...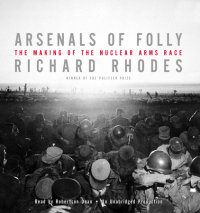 From the Pulitzer Prize—winning author of The Making of the Atomic Bomb: the story of the entire postwar superpower arms race, climaxing during the Reagan-Gorbachev decade when the United States and the Soviet Union came within scant hours of n...