From the New York Times-bestselling author of Stony the Road and one of our most important voices on the African-American experience, a powerful new history of the Black church in America as the Black community's abiding rock and its fortress.The com...
A profound new rendering of the struggle by African-Americans for equality after the Civil War and the violent counter-revolution that resubjugated them, as seen through the prism of the war of images and ideas that have left an enduring racist stain...
The first edition of Joel Augustus Rogers's now legendary 100 Amazing Facts About the Negro with Complete Proof, published in 1957, was billed as "A Negro 'Believe It or Not.'" Rogers's little book was priceless be...
Most African Americans, in tracing their family's past, encounter a series of daunting obstacles. Slavery was a brutally efficient nullifier of identity, willfully denying black men and women even their names. Here, scholar Henry Louis Gates, J...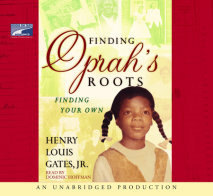 "Before I have a big meeting or decision to make," says Oprah Winfrey, "I go and I sit with the ancestors. Literally, I go and sit in my closet and I say their names. I just say their names so that when I walk into the space, I don...