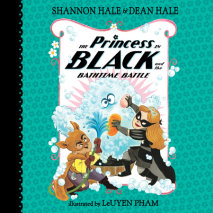 Something smells like trouble! Can five princess heroes and one Goat Avenger pool their talents to vanquish a monstrous stink?The Princess in Black is in a very stinky situation. A foul cloud is plaguing the goat pasture, and it smells worse than a p...
Books 4-6 in Shannon Hale & Dean Hale's New York Times bestselling series. Who says princesses don't wear black?The Princess in Black Takes a Vacation: After battling monsters all night, a sleepy Princess in Black decides that she needs a vacatio...
It's mayhem at the science fair! A squishy goo monster is a challenge for the Princess in Black--but luckily some science-loving princesses are on hand to help.Princess Magnolia is excited. Excited and nervous. She's going to the Interkingdom Science...
Doreen Green, age fourteen, is a little too busy wiping out crime in her suburban New Jersey neighborhood to focus on her overdue homework. That's because she also happens to be Squirrel Girl, a bushy-tailed, squirrel-powered Super Hero!After foiling...
Noseholes and elephants! A pet-eating monster interrupts a perfect playdate with Princess Sneezewort . . . but who is that new masked avenger?Princess Magnolia and Princess Sneezewort have plans . . . mysterious plans, like a princess playdate! They ...
Who Runs the World? Squirrels! Fourteen-year-old Doreen Green moved from sunny California to the suburbs of New Jersey. She must start at a new school, make new friends, and continue to hide her fluffy tail. Yep, Doreen has the powers of . . . a squi...
Even monster-battling princesses get tired sometimes! But a peaceful time away is hard to find as the humorous New York Times best-selling series continues.After battling monsters all night, a sleepy Princess in Black decides that she needs...
The Princess in Black: Princess Magnolia is having hot chocolate and scones with Duchess Wigtower when . . . Brring! Brring! The monster alarm! Stopping monsters is no job for prim and perfect Princess Magnolia. But luckily Princess Magnolia has...