Running from her father's brutal legacy, Joseph Stalin's daughter defects to the United States during the turbulence of the 1960s. For fans of We Were the Lucky Ones and A Gentleman in Moscow, this sweeping historical novel and unexpected...
The New York Times Book Review called Reservation Road "a triumph," and the novel was universally acclaimed. Now, in a brilliant literary performance by one of our most compelling and compassionate writers, John Burnham Schwartz reintrodu...
It is 1959 when Haruko, a young woman of good family, marries the Crown Prince of Japan, the heir to the Chrysanthemum Throne. She is the first non-aristocratic woman to enter the longest-running, almost hermetically sealed, and mysterious monarchy i...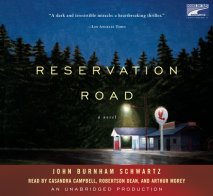 "Haunting. . . . A powerful and affecting novel."–The New York TimesA tragic accident sets in motion a cycle of violence and retribution in John Burnham Schwartz's riveting novel RESERVATION ROAD. Two haunted men and their fam...