From the winner of the Pulitzer Prize: the much-anticipated final volume, following Some Luck and Early Warning, of her acclaimed American trilogy—a richly absorbing new novel that brings the remarkable Langdon family into our present times and...
From the Pulitzer Prize-winner: the second installment, following Some Luck, of her widely acclaimed, best-selling American trilogy, which brings the journey of a remarkable family with roots in the Iowa heartland into mid-century America Early Warni...
Longlisted for the 2014 National Book AwardFrom the winner of the Pulitzer Prize: a powerful, engrossing new novel—the life and times of a remarkable family over three transformative decades in America.  On their farm in Denby, Iowa, ...
This timeless classic is now an easy-to-read chapter book!The four March sisters--Meg, Amy, Beth, and feisty Jo--share the joys and sorrows of growing up while their father is away at war. The family is poor in worldly goods, but rich in love and cha...
From one of our most acclaimed novelists, a  David-and-Goliath biography for the digital age.One night in the late 1930s, in a bar on the Illinois–Iowa border, John Vincent Atanasoff, a professor of physics at Iowa State University, after ...
A riveting new novel from the Pulitzer Prize–winner that traverses the intimate landscape of one woman's life, from the 1880s to World War II.Margaret Mayfield is nearly an old maid at twenty-seven in post–Civil War Missouri when sh...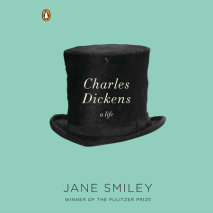 Of Charles Dickens, Jane Smiley says that "his novels shaped his life as much as his life shaped his novels." Smiley's Charles Dickens is at once a sensitive profile of the great master and a fascinating meditation on the writing life. Smiley ev...
Six years after her Pulitzer Prize-winning best-seller, A Thousand Acres, and three years after her witty, acclaimed, and best-selling novel of academe, Moo, Jane Smiley once again demonstrates her extraordinary range and brilliance.Her new novel, se...