Presenting an original audiobook performance of the stage production of My Name is Lucy Barton, starring Academy Award and Tony nominee Laura Linney.Praised as "deeply affecting" and "heartbreaking" by The Guardian (UK), this is a faithful adaptation...
NEW YORK TIMES BESTSELLER • OPRAH'S BOOK CLUB PICK • Pulitzer Prize winner Elizabeth Strout continues the life of her beloved Olive Kitteridge, a character who has captured the imaginations of millions."Strout managed to make me...
WINNER OF THE PULITZER PRIZE • The beloved first novel featuring Olive Kitteridge, from the #1 New York Times bestselling author of the Oprah's Book Club pick Olive, Again "Fiction lovers, remember this name:...
NEW YORK TIMES BESTSELLER • An unforgettable cast of small-town characters copes with love and loss in this new work of fiction by #1 bestselling author and Pulitzer Prize winner Elizabeth Strout.Winner of The Story Prize • A Washington Pos...
#1 NEW YORK TIMES BESTSELLER • A simple hospital visit becomes a portal to the tender relationship between mother and daughter in this extraordinary novel by the Pulitzer Prize–winning author of Olive Kitteridge and The Burgess Boys.S...
With compassion, humor, and striking insight, Amy and Isabelle explores the secrets of sexuality that jeopardize the love         between a mother and her daughter. Amy Goodrow, a shy high school student in a s...
Elizabeth Strout "animates the ordinary with an astonishing force," wrote The New Yorker on the publication of her Pulitzer Prize–winning Olive Kitteridge. The San Francisco Chronicle praised Strout's "magnificent gift f...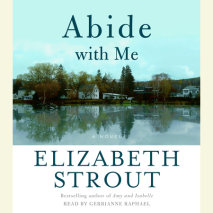 NATIONAL BESTSELLER • From the Pulitzer Prize–winning, #1 New York Times bestselling author of Olive Kitteridge comes a "superb" (O: The Oprah Magazine) novel that "confirms Strout as the possessor of ...