NATIONAL BEST SELLER • TOP TEN BOOK OF THE YEAR FOR USA TODAY • ONE OF THE BEST BOOKS OF THE YEAR: O Magazine, Christian Science Monitor, Minneapolis Star-Tribune, The Times (London)A charming new novel of self-discovery and secon...
Short-listed for the Man Booker Prize "It was a beautiful, breezy, yellow-and-green afternoon. . ." This is how Abby Whitshank always begins the story of how she fell in love with Red that day in July 1959. The Whitshanks are one of ...
Pulitzer Prize winner and American master Anne Tyler brings us an inspired, witty and irresistible contemporary take on one of Shakespeare's most beloved comedies. Kate Battista feels stuck. How did she end up running house and home for he...
Anne Tyler gives us a wise, haunting, and deeply moving new novel in which she explores how a middle-aged man, ripped apart by the death of his wife, is gradually restored by her frequent appearances—in their house, on the roadway, in the marke...
From the incomparable Anne Tyler, a wise, gently humorous, and deeply compassionate novel about a schoolteacher, who has been forced to retire at sixty-one, coming to terms with the final phase of his life.Liam Pennywell, who set out to be a philosop...
Anne Tyler's richest, most deeply searching novel–a story about what it is to be an American, and about Iranian-born Maryam Yazdan, who, after 35 years in this country, must finally come to terms with her "outsiderness."Two fa...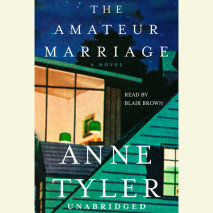 From the inimitable Anne Tyler, a rich and compelling novel about a mismatched marriage—and its consequences, spanning three generations.They seemed like the perfect couple—young, good-looking, made for each other. The moment Pauline, a s...
"Once upon a time, there was a woman who discovered that she had turned into the wrong person." So Anne Tyler opens this irresistible new novel.The woman is Rebecca Davitch, a fifty-three-year-old grandmother. Is she an impostor in her own ...