A landmark book that reveals the way boys think and that shows parents, educators and coaches how to reach out and help boys overcome their most common and difficult challenges -- by the bestselling author who changed our conception of adolescent gir...
"My daughter used to be so wonderful. Now I can barely stand her and she won't tell me anything. How can I find out what's going on?""There's a clique in my daughter's grade that's making her life miser...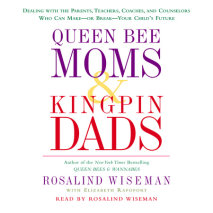 What happens to Queen Bees and Wannabes when they grow up?Even the most well-adjusted moms and dads can experience peer pressure and conflicts with other adults that make them act like they're back in seventh grade. In Queen Bee Moms & King...