From two extraordinary authors comes a moving, exuberant, laugh-out-loud novel about friendship and family, told entirely in emails and letters. Avery Bloom, who's bookish, intense, and afraid of many things, particularly deep water, lives in New Yor...
A New York Times Bestseller   "A powerful coming-of-age story that looks at ambition, friendship, identity, desire, and power from the much-needed female lens." —Bustle "Ultra-readable." —Vogue    Fro...
If life were fair, Jam Gallahue would still be at home in New Jersey with her sweet British boyfriend, Reeve Maxfield. She'd be watching old comedy sketches with him. She'd be kissing him in the library stacks.  S...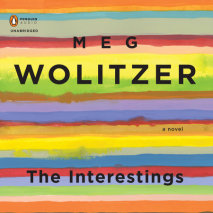 "Remarkable . . . With this book [Wolitzer] has surpassed herself."—The New York Times Book Review"A victory . . . The Interestings secures Wolitzer's place among the best novelists of her generation. . . . She's every bit as litera...