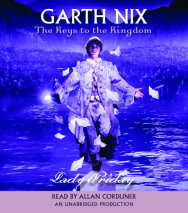 Four of the seven Trustees have been defeated and their Keys taken, but for Arthur, the week is still getting worse. Suzy Blue and Fred Gold Numbers have been captured by the Piper, and his New Nithling army still controls most of the Great Maze. Sup...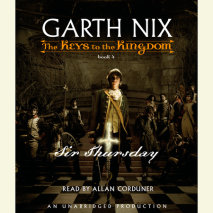 On the first day, there was mystery. On the second day, there was darkness. On the third day, there were pirates. On the fourth day, there was war. It's Thursday. Following their adventure on the Border Sea, Arthur and Leaf are set on heading home....
With his unlimited imagination and thrilling storytelling, Garth Nix has created a character and a world that become even more compelling with each audiobook. As Arthur gets closer to the heart of his quest, the suspense and mystery grow more and mo...
The second remarkable installment in The Keys to the Kingdom, from spellbinding bestseller Garth Nix.Seven days. Seven keys. Seven virtues. Seven sins. One mysterious house is the doorway to a very mysterious world--where one boy is about to vent...
On the first day, there was mystery. Arthur Penhaligon is not supposed to be a hero. He is, in fact, supposed to die an early death. But then his life is saved by a key shaped like the minute hand of a clock. Arthur is safe–but his world is n...
Before she went to join Sam and Mogget downstairs, Lirael paused for a moment to look at herself in the tall silver mirror that hung on the wall of her room. The image that faced her bore little resemblance to the Second Assistant Librarian of the C...
Lirael has never felt like a true daughter of the Clayr. Abandoned by her mother, ignorant of her father's identity, Lirael resembles no one else in her large extended family living in the Clayr's glacier. She doesn't even have the Sight--the abilit...
A tale of dark secrets, deep love, and dangerous magic!Since childhood, Sabriel has lived outside the walls of the Old Kingdom, away from the random power of Free Magic, and away from the Dead who refuse to stay dead. But now her father, the Charter...