When Ohkwa'ri overhears a group of older boys planning a raid on a neighboring village, he immediately tells his Mohawk elders. He has done the right thing—but he has also made enemies. Grabber and his friends will do anything they can to hurt ...
"Full of history, danger, courage and raw survival, this compelling novel by acclaimed author Joseph Bruchac is certain to have readers on the edge of their seat, start to finish." —The Dallas Morning NewsSaxso is fourteen when the British atta...
Chris Nicola's life is complicated. He lives on the Penacook Indian Reservation and goes to school in town. At school, things are going great--he's been selected to lead a group project on using Indian names for sporting teams. But it's another story...
From the multi-award-winning author of Code Talker comes a Native American perspective on the Civil War.Louis Nolette, a fifteen-year-old Abenaki Indian from Canada, is recruited to fight in the northern Irish Brigade in the Civil War....
Among the towering fir trees of the Pacific Northwest, a famously elusive creature is in serious trouble.   All Elliot wants is a nice, normal day at school. All Uchenna wants is an adventure. Guess whose wish comes true? Professor Fauna whisks ...
The True Story of Sitting Bull from multi-award-winning author Joseph Bruchac.Anxious to be given a name as strong and brave as that of his father, a proud Lakota Sioux grows into manhood, acting with careful deliberation, determination, and bravery,...
A new work of historical fiction about Sequoyah and the creation of the Cherokee alphabet, from the acclaimed author of Code Talker Thirteen-year-old Uwohali has not seen his father, Sequoyah, for many years. So when Sequoyah returns to the vill...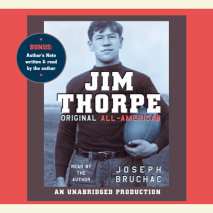 Jim Thorpe was one of the greatest athletes who ever lived. He played professional football, Major League b aseball, and won Olympic gold medals in track and field. He'll forever be remembered by the sports community and by his Native American ...