A blockbuster new thriller from #1 New York Times bestselling author Lincoln Child, centered on a dominant tech company—Chrysalis—whose groundbreaking virtual reality technology is redefining the way we live . . . and possibly introducing...
The New York Times bestselling author of The Forgotten Room and Deep Storm is back with a new thriller that follows the trail of a killer who cannot exist . . . featuring Jeremy Logan, the renowned investigator of the supernatural and fantastic. Lege...
Lewis and Lindsay Thorpe were the perfect couple: young, attractive, and ideally matched. But the veil of perfection can mask many blemishes. When the Thorpes are found dead in their tasteful Flagstaff living room (having committed double suicide), a...
A LONG-LOST EXPERIMENT OF UNGUESSABLE INTENT   A SECRET ROOM, INGENIOUSLY HIDDEN INSIDE A VAST SEACOAST MANSION   NEW YORK TIMES BESTSELLING AUTHOR LINCOLN CHILD AT HIS RIVETING BESTProfessor Jeremy Logan (the quirk...
Under the direction of famed explorer Porter Stone, an archaeological team is secretly attempting to locate the tomb of an ancient pharaoh who was unlike any other in history. Stone believes he has found the burial chamber of King Narmer, the near my...
A breathtaking discovery at the top of the world . . .A terrifying collision between modern science and Native American legend . . . An electrifying new thriller from New York Times bestselling author Lincoln Child.Two hundred miles north of the Arct...
Twelve-thousand feet beneath the Atlantic Ocean . . . scientists are excavating the most extraordinary undersea discovery ever made. But is it the greatest archaeological find in history—or the most terrifying?Former naval doctor Peter Crane is...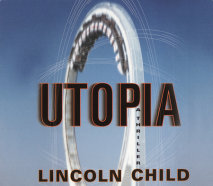 Fasten your seat belts–the white-knuckle thrills at Utopia, the world's most fantastic theme park, escalate to nightmare proportions in this intricately imagined techno-thriller by New York Times bestselling author Lincoln Child.Rising ou...