Robert Baer was known inside the CIA as perhaps the best operative working the Middle East. But if his career was all that a spy might aspire to, his personal life was a brutal illustration of everything a spy is asked to sacrifice. Dayna Williamson ...
Over the past thirty years, while the United States has turned either a blind or dismissive eye, Iran has emerged as a nation every bit as capable of altering America's destiny as traditional superpowers Russia and China. Indeed, one of this bo...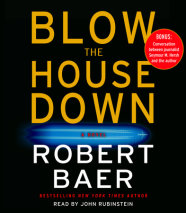 Former CIA operative Robert Baer pushes fiction to the absolute limit in this riveting and unnervingly plausible alternative history of 9/11. Veteran CIA officer Max Waller has long been obsessed with the abduction and murder of his Agency mentor. Th...
"See No Evil is a compelling account of America's failed efforts to 'listen in' on the rest of the world, especially the parts of it that intend to do us harm."—The Wall Street Journal In his explosive New York Tim...
Former CIA operative Robert Baer examines the dangers behind America's collaboration with Saudi Arabia. Nominally based on a "harmony of interests" - the Saudis sold their oil to the American government very inexpensively - what we offered in exchang...