Allan and Barbara Pease, the international bestsell­ing authors of Why Men Don't Listen & Women Can't Read Maps, deliver their most exciting book yet.

Will men and women ever see eye-to-eye about love and sex.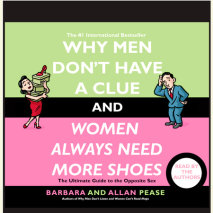 Do you know the top seven things men do that drive women nuts. Or the real reason women cry more than men do. What are men really looking for in a woman—both at first sight and for the long-term. These are only the starting points for Barbara and Allan Pease as they discuss the very real—and often very funny—differences between the sexes.