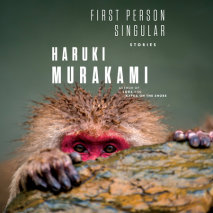 A mind-bending new collection of short stories from the internationally acclaimed, Haruki Murakami.The eight stories in this new book are all told in the first person by a classic Murakami narrator. From memories of youth, meditations on music, and a...
A book that "speak[s] volumes about our need for connection—human, feline or otherwise" (The San Francisco Chronicle), The Travelling Cat Chronicles is a life-affirming anthem to kindness and self-sacrifice that shows...
"Haruki Murakami's Men Without Women examines what happens to characters without important women in their lives; it'll move you and confuse you and sometimes leave you with more questions than answers." —Barack ObamaA dazzling...
Colorless Tsukuru Tazaki and His Years of Pilgrimage is the long-awaited new novel—a book that sold more than a million copies the first week it went on sale in Japan—from the award-winning, internationally best-selling author Haruki...
South of the Border, West of the Sun is the beguiling story of a past rekindled, and one of Haruki Murakami's most touching novels.Hajime has arrived at middle age with a loving family and an enviable career, yet he feels incomplete. When a chi...