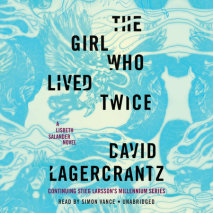 The sixth Lisbeth Salander story--the crime-fiction phenomenon that has sold more than 90 million copies worldwide.Book four in the series, The Girl in the Spider's Web, starring Claire Foy, is now a major film from Sony Pictures."Rest easy, Lisbeth ...
INSTANT NEW YORK TIMES BEST SELLER Lisbeth Salander is back with a vengeance. The series that began with The Girl with the Dragon Tattoo continues as brilliant hacker Lisbeth Salander teams up with journalist Mikael Blom...
Soon to be a major motion picture starring Claire Foy. Lisbeth Salander and Mikael Blomkvist return in this ripped-from-the-headlines, high-octane follow-up to Stieg Larsson's The Girl Who Kicked the Hornet's Nest. One of the Best Books of ...
From the author of the #1 best seller The Girl in the Spider's Web—an electrifying thriller that begins with Alan Turing's suicide and plunges into a post-war Britain of immeasurable repression, conformity and fear   June 8, 19...