After focusing on topics ranging from teamwork and leadership to employee engagement and meetings  New York Times best-selling author Patrick Lencioni has finally turned his attention toward his own craft—consulting and client service. Tap...
In this groundbreaking audiobook, business consultant Patrick Lencioni turns his sights on the most important organization in our lives–the family. Lencioni realized the discrepancy between the time and energy his clients put into running thei...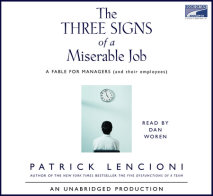 In this, his sixth and most anticipated fable, New York Times bestselling author Patrick Lencioni takes on his most universal and human topic to date: misery at work. In doing so, Lencioni presents a revolutionary yet simple model for making any job ...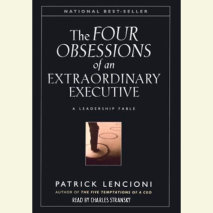 In this stunning follow-up to his best-selling book, The Five Temptations of a CEO, Patrick Lencioni offers up another leadership fable that's every bit as compelling and illuminating as its predecessor. This time, Lencioni's focus is on a leader's c...
After her first two weeks observing the problems at DecisionTech, Kathryn Petersen, its new CEO, had more than a few moments when she wondered is she should have taken the job. But Kathryn knew there was little chance she would have turned it down. A...