For Dash and Lily, it's beginning to look a lot like...distance! Just in time for the series release of Dash & Lily on Netflix comes a new helping of love--this time across the pond as best-selling authors Rachel Cohn and David Levithan send Dash...
The New York Times Bestselling duo behind Nick & Norah's Infinite Playlist and The Twelve Days of Dash & Lily return with twins out to throw the party of a lifetime--or at least the best party of high school!Siblings Sam and Ilsa Kehlmann hav...
New York Times bestselling authors Rachel Cohn and David Levithan are back together with a life-affirming holiday romance starring Dash and Lily! Dash and Lily have had a tough year since readers watched the couple fall in love in Dash & L...
A whirlwind romance from the New York Times bestselling authors of Nick & Norah's Infinite Playlist!   "I've left some clues for you. If you want them, turn the page. If you don't, put the book back on ...
Naomi and Ely are best friends. Naomi loves and is in love with Ely, and Ely loves Naomi, but prefers to be in love with boys. So they create their "No Kiss List" of people neither of them is allowed to kiss. And this works fine - until Bru...
The New York Times bestselling he-said/she-said rock n' roll romance that inspired the hit movie! "I know this is going to sound strange, but would you mind being my girlfriend for the next five minutes?"  Nick frequents New York's indie r...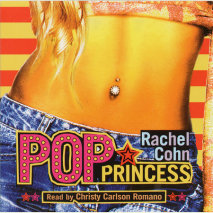 Fifteen-year-old Wonder Blake and her family are trying to recover from the death of Wonder's older sister Lucky, who was about to sign a major record deal when she died. When Lucky's talent manager runs into Wonder at the Dairy Queen where she work...
Twelve-year-old Annabel thought Christmas break was going to be amazing. She'd planned to stay home in New York City with her best friend and do traditional things like go ice-skating in Rockefeller Center, hit the after-Christmas sale at Blo...