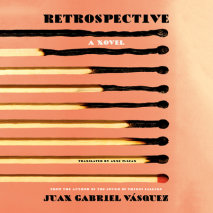 An epic yet intimate novel about a Colombian man caught up in the sweep of global historical and ideological revolutions.The Colombian film director, Sergio Cabrera, is in Barcelona for a retrospective of his work. It's a hard time for him: his fathe...
INTERNATIONAL BEST SELLER • WINNER OF SPAIN'S BIGGEST LITERARY PRIZE • The first book in the acclaimed series: Barcelona detective Melchor Marín is sent to the countryside to investigate a horrific double murder. Before long, i...
A new collection of electric, searing stories from award-winning, bestselling author Juan Gabriel Vásquez. The characters in Songs for the Flames are men and women touched by violence—sometimes directly, sometimes only in passing—b...
SHORTLISTED FOR THE 2019 MAN BOOKER INTERNATIONAL PRIZEA sweeping tale of conspiracy theories, assassinations, and twisted obsessions -- the much anticipated masterpiece from Juan Gabriel Vásquez.The Shape of the Ruins is a masterly story of c...
A brilliant novel about the power of politics and personal memory from one of South America's literary stars, the New York Times bestselling author of The Sound of Things Falling.Javier Mallarino is a living legend. He is his country's most influenti...