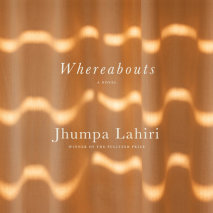 A marvelous new novel from the Pulitzer Prize winning author of The Lowland and Interpreter of Maladies--her first in nearly a decade.Exuberance and dread, attachment and estrangement: in this novel, Jhumpa Lahiri stretches her themes to the limit. T...
How do you clothe a book? In this deeply personal reflection, Pulitzer Prize–winning author Jhumpa Lahiri explores the art of the book jacket from the perspectives of both reader and writer. Probing the complex relationships between text and i...
From the best-selling author and Pulitzer Prize winner, a powerful nonfiction debut—an "honest, engaging, and very moving account of a writer searching for herself in words." —Kirkus Reviews (starred)   In Other Words is ...
National Book Award FinalistShortlisted for the 2013 Man Booker PrizeFrom the Pulitzer Prize-winning, best-selling author of The Namesake comes an extraordinary new novel, set in both India and America, that expands the scope and range of one of our ...
From the internationally bestselling, Pulitzer Prize—winning author, a superbly crafted new work of fiction: eight stories that take us from Cambridge and Seattle to India and Thailand.  In the stunning title story, Ruma, a young mother in...
The Namesake follows the Ganguli family through its journey from Calcutta to Cambridge to the Boston suburbs. Ashima and Ashoke Ganguli arrive in America at the end of the 1960s, shortly after their arranged marriage in Calcutta, in order for Ashoke...