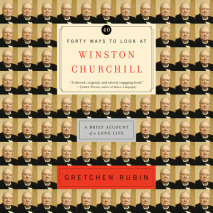 Warrior and writer, genius and crank, rider in the British cavalry's last great charge and inventor of the tank—Winston Churchill led Britain to fight alone against Nazi Germany in the fateful year of 1940 and set the standard for leading...
New York Times Bestseller!For most of us, outer order contributes to inner calm. And for most of us, a rigid, one-size-fits-all solution doesn't work.  The fact is, when we tailor our approach to suit our own particular challenges and habits, we...
In the spirit of her blockbuster #1 New York Times bestseller The Happiness Project, Gretchen Rubin embarks on a new project to make home a happier place. One Sunday afternoon, as she unloaded the dishwasher, Gretchen Rubin felt hit by a wave of...
In this groundbreaking analysis of personality type, bestselling author of Better Than Before and The Happiness Project Gretchen Rubin reveals the one simple question that will transform what you do at home, at work, and in life.   During her m...
New York Times Bestseller Washington Post Bestseller   The author of the blockbuster New York Times bestsellers, The Happiness Project and Happier at Home, tackles the critical question: How do we change? ...