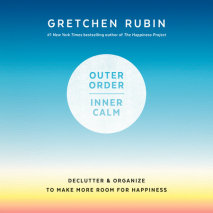 For most of us, outer order contributes to inner calm. And for most of us, a rigid, one-size-fits-all solution doesn't work.

The fact is, when we tailor our approach to suit our own particular challenges and habits, we're then able to create the order that will make our lives happier, healthier, more productive, and more creative.
In the spirit of her blockbuster #1 New York Times bestseller The Happiness Project, Gretchen Rubin embarks on a new project to make home a happier place.

One Sunday afternoon, as she unloaded the dishwasher, Gretchen Rubin felt hit by a wave of homesickness.
In this groundbreaking analysis of personality type, bestselling author of Better Than Before and The Happiness Project Gretchen Rubin reveals the one simple question that will transform what you do at home, at work, and in life.

During her multibook investigation into understanding human nature, Gretchen Rubin realized that by asking the seemingly dry question "How do I respond to expectations.
New York Times Bestseller
Washington Post Bestseller

The author of the blockbuster New York Times bestsellers, The Happiness Project and Happier at Home, tackles the critical question.