NEW YORK TIMES BESTSELLER • The bestselling author of Zealot and host of Believer explores humanity's quest to make sense of the divine in this concise and fascinating history of our understanding of God.

In Zealot, Reza Aslan replaced the staid, well-worn portrayal of Jesus of Nazareth with a startling new image of the man in all his contradictions.
#1 NEW YORK TIMES BESTSELLER • "A lucid, intelligent page-turner" (Los Angeles Times) that challenges long-held assumptions about Jesus, from the host of Believer

Two thousand years ago, an itinerant Jewish preacher walked across the Galilee, gathering followers to establish what he called the "Kingdom of God.
A cosmic war is a religious war. It is a battle not between armies or nations, but between the forces of good and evil, a war in which God is believed to be directly engaged on behalf of one side against the other.

The hijackers who attacked the United States on September 11, 2001, thought they were fighting a cosmic war.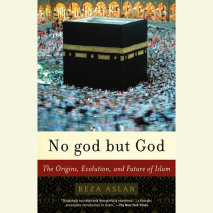 A fascinating, accessible introduction to Islam from the author of the #1 New York Times bestseller Zealot

Though it is the fastest growing religion in the world, Islam remains shrouded by ignorance and fear. What is the essence of this ancient faith.