The star of Bravo's breakout scripted comedy Odd Mom Out shares her razor-sharp wit and backhanded wisdom in a deeply observed and outrageously funny collection of musings, lists, essays, and outrages.   From her unique lingo (things don&r...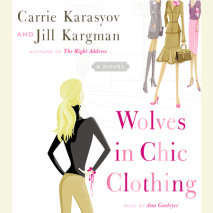 In The Right Address, Carrie Karasyov and Jill Kargman seared through the upper crust of New York's glitterati with wicked glee. In their delicious new novel, Wolves in Chic Clothing, they train their merciless spotlight on the young princes an...
The Right Address sears through the upper crust of New York's glittering Park Avenue scene to dish the dirt on the ladies who lunch, the gents who club, and the desperate climbers who will stop at nothing to join the backstabbing, champagne-sip...