NEW YORK TIMES BESTSELLER • The harrowing story of one of the great feats of exploration of all time and its complicated legacy—from the New York Times bestselling author of The River of Doubt and Destiny of the RepublicFor millennia ...
From New York Times bestselling author of Destiny of the Republic and The River of Doubt, a thrilling narrative of Winston Churchill's extraordinary and little-known exploits during the Boer War   At age twenty-four, Winston Churchill was utterl...
James A. Garfield was one of the most extraordinary men ever elected president. Born into abject poverty, he rose to become a wunderkind scholar, a Civil War hero, and a renowned and admired reformist congressman. Nominated for president against his ...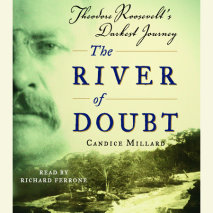 At once an incredible adventure narrative and a penetrating biographical portrait, The River of Doubt is the true story of Theodore Roosevelt's harrowing exploration of one of the most dangerous rivers on earth.The River of Doubt—it is a ...