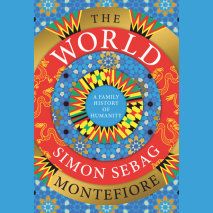 From the New York Times best-selling author of The Romanovs—a magisterial world history unlike any other that tells the story of humanity through the one thing we all have in common: familiesAround 950,000 years ago, a family of five walked alo...
A celebration of the great speeches of world history and cultural life. A VINTAGE ORIGINALIn this exuberant collection, acclaimed historian Simon Sebag Montefiore takes us on a journey from ancient times to the twenty-first century. Some speeches are...
From the author of The Romanovs: a vivid account of history's most successful political partnership—as sensual and fiery as it was creative and visionary. Catherine the Great was a woman of notorious passion and imperial ambition. Prince Potemk...
Outstanding selection of great letters from ancient times to the 21st century, touching on power, love, art, sex, faith, and war.Written in History: Letters that Changed the World celebrates the great letters of world history, and cultural and person...
Fifty years after his death, Stalin remains a figure of powerful and dark fascination. The almost unfathomable scale of his crimes–as many as 20 million Soviets died in his purges and infamous Gulag–has given him the lasting distinction a...
In this inspiring, horrifying, and accessible collection of short, entertaining, and vivid life stories, Simon Sebag Montefiore—one of our pre-eminent historians and a prizewinning writer—presents the giant characters who have changed the...
The Romanovs were the most successful dynasty of modern times, ruling a sixth of the world's surface for three centuries. How did one family turn a war-ruined principality into the world's greatest empire? And how did they lose it all? ...
Jerusalem is the universal city, the capital of two peoples, the shrine of three faiths; it is the prize of empires, the site of Judgement Day and the battlefield of today's clash of civilizations. From King David to Barack Obama, from the birt...