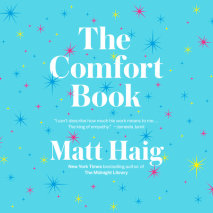 A small book for anyone in search of hope, looking for a path to a more meaningful life, or in need of encouragement."Happiness occurs when you forget who you're expected to be. And what you're expected to do. Happiness is an accident of self-accepta...
A WASHINGTON POST "FEEL-GOOD BOOK GUARANTEED TO LIFT YOUR SPIRITS"An instant New York Times bestsellerOne of Amazon's Best Books of the YearA GOOD MORNING AMERICA Book Club Pick!"Between life and death there is a library, and wi...
A follow-up to Matt Haig's internationally bestselling memoir, Reasons to Stay Alive, a broader look at how modern life feeds our anxiety, and how to live a better life.The societies we live in are increasingly making our minds ill, making it feel as...
"A quirky romcom dusted with philosophical observations….A delightfully witty…poignant novel." —The Washington Post    "She smiled a soft, troubled smile and I felt the whole world slipping away, and I ...
"If somewhere in the afterlife Roald Dahl met Charles Dickens and they cooked up a new Christmas tale, it couldn't have much on this fleet, verbally rambunctious, heart-stealing follow-up to A Boy Called Christmas."—The New York Times...
2018 Odyssey Honor 2018 ALSC Notable Children's RecordingBefore there was Santa Claus, there was a young boy who believed in the impossible. . . . Lemony Snicket meets Elf in this warmhearted Christmas caper.   Eleven-year-old N...