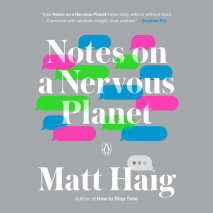 A follow-up to Matt Haig's internationally bestselling memoir, Reasons to Stay Alive, a broader look at how modern life feeds our anxiety, and how to live a better life.

The societies we live in are increasingly making our minds ill, making it feel as though the way we live is engineered to make us unhappy.
"A quirky romcom dusted with philosophical observations….A delightfully witty…poignant novel." —The Washington Post

"She smiled a soft, troubled smile and I felt the whole world slipping away, and I wanted to slip with it, to go wherever she was going… I had existed whole years without her, but that was all it had been.
"If somewhere in the afterlife Roald Dahl met Charles Dickens and they cooked up a new Christmas tale, it couldn't have much on this fleet, verbally rambunctious, heart-stealing follow-up to A Boy Called Christmas."—The New York Times

Amelia Wishart was the first child ever to receive a Christmas present.
2018 Odyssey Honor
2018 ALSC Notable Children's Recording

Before there was Santa Claus, there was a young boy who believed in the impossible. . . . Lemony Snicket meets Elf in this warmhearted Christmas caper.

Eleven-year-old Nikolas—nicknamed "Christmas"—has received only one toy in his life.