"A complex, thought-provoking, and entertaining view of middle school." --Publishers WeeklyTwenty kids. Twenty points of view. One rambunctious, brilliantly conceived novel that corrals the seeming chaos (c'mon, TWENTY points of view!) into one effer...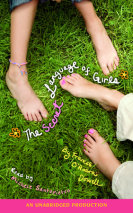 Kate and Marylin have always been the kind of best friends who don't need words to talk to one another; they always just knew what the other was thinking. But lately it's starting to feel as though they don't know each other at all anymore. Marylin...
A ghost saved twelve-year-old Maddie's life when she was an infant, her Granny Lane claims, so Maddie must always remember that she is special. But it's hard to feel special when you've spent your life being shuttled from one foster...