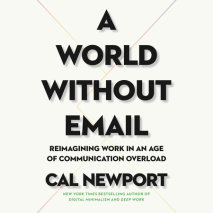 From New York Times bestselling author Cal Newport comes a bold vision for liberating workers from the tyranny of the inbox--and unleashing a new era of productivity.Modern knowledge workers communicate constantly. Their days are defined by a relentl...
A New York Times, Wall Street Journal, Publishers Weekly, and USA Today bestseller"Newport is making a bid to be the Marie Kondo of technology: someone with an actual plan for helping you realize the digital pursuits that do, and don't, bring va...
Looking to jumpstart your GPA? Most college students believe that straight A's can be achieved only through cramming and painful all-nighters at the library. But Cal Newport knows that real straight-A students don't study harder—th...