The most popular, provocative, and unforgettable essays from the New York Times "Modern Love" column—now revised and updated, featuring stories from the upcoming anthology series starring Tina Fey, Andy Garcia, A...
As lyrical as a sonata, Ayelet Waldman's follow-up novel to Love and Other Impossible Pursuits explores the aftermath of a family tragedy. Set on the coast of Maine over the course of four summers, Red Hook Road tells the story of two families,...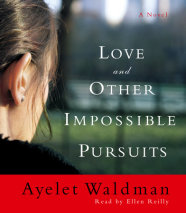 In this moving, wry, and candid novel, widely acclaimed novelist Ayelet Waldman takes us through one woman's passage through love, loss, and the strange absurdities of modern life.Emilia Greenleaf believed that she had found her soulmate, the m...