New York Times bestselling author Stephan Talty's acclaimed fiction debut, Black Irish, won him comparisons to such thriller masters as Jo Nesbø, Karin Slaughter, and Tana French. Now, his chilling new novel brings back intrepid heroine ...
NEW YORK TIMES BESTSELLERIn this explosive debut thriller by the author of Empire of Blue Water, a brilliant homicide detective returns home, where she confronts a city's dark demons and her own past while pursuing a brutal serial killer o...
On the evening of March 17, 1959, as the people of Tibet braced for a violent power grab by Chinese occupiers—one that would forever wipe out any vestige of national sovereignty—the twenty-four-year-old Dalai Lama, Tibet's political...
"Gripping . . . a compelling story of personal hubris and humbling defeat."—Jack Weatherford,author of the New York Times bestseller Genghis Khan and the Making of theModern World In a masterful dual narrative that pits the heights ...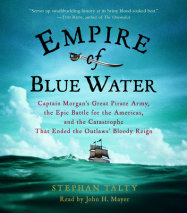 He challenged the greatest empire on earth with a ragtag bunch of renegades—and brought it to its knees. Empire of Blue Water is the real story of the pirates of the Caribbean.Henry Morgan, a twenty-year-old Welshman, crossed the Atlantic in 16...