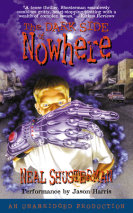 Fourteen-year-old Jason faces an identity crisis after discovering that he is the son of aliens who stayed on earth following a botched invasion mission.
It was a dumb idea, but one of those dumb ideas that accidentally turns out to be brilliant–which, I've come to realize, is much worse than being dumb. My name's Antsy Bonano–but you probably already know that–and unless...
This audiobook follows eigth-grader "Antsy" Bonano as he looks back on three accidental, but beneficial friendships with a few interesting characters, including the often ignored, Calvin Schwa.