From Susan Casey, the New York Times bestselling author of The Wave and The Devil's Teeth, a breathtaking journey through the extraordinary world of dolphins Since the dawn of recorded history, humans have felt a kinship with the sleek and...
From Susan Casey, bestselling author of The Devil's Teeth, an astonishing book about colossal,  ship-swallowing rogue waves and the surfers who seek them out. For centuries, mariners have spun tales of gargantuan waves, 100-feet high or ta...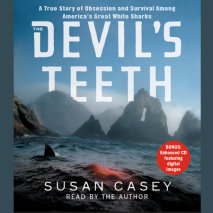 Travel thirty miles north, south, or east of San Francisco city hall and you'll be engulfed in a landscape of thick traffic, fast enterprise, and six-dollar cappuccinos. Venture thirty miles due west, however, and you will find yourself on what is vi...