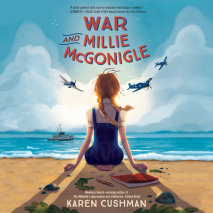 The Newbery Award-winning author of Catherine, Called Birdy and The Midwife's Apprentice tells a heartfelt and humorous story of WWII on the homefront.Millie McGonigle lives in sunny California, where her days are filled with beach and surf. It shou...
Will Sparrow, liar and thief, is running away—from the father who sold him for beer, from the innkeeper who threatened to sell him as a chimney sweep, from his whole sorry life. Barefoot and penniless, without family, friends, or boots, Will is...
Fans of Karen Cushman's witty, satisfying novels will welcome Meggy Swann, newly come to London with her only friend, a goose named Louise. Meggy's mother was glad to be rid of her; her father, who sent for her, doesn't want her after all. Meggy...
Orphaned Matilda is not at all pleased when she arrives at Blood and Bone Alley to become an assistant to Red Peg the Bonesetter. She is a religious, well-educated girl who can't picture herself doing dirty chores or helping sickly patients. Ea...
Francine lives down the street from a Hollywood film studio, adores screen dreamboat Montgomery Clift, and sometimes sees her home life as a scene from a movie: Dinner at the Greens. She wishes she were a movie star, brave and glamorous and always r...
In 1881, 12-year-old Rodzina Clara Jadwiga Anastazya Brodski wishes she didn't have to board the orphan train in Chicago. But she has no home, no family, and no choice. Rodzina doesn't believe the orphans are on their way out West to be a...
Karen Cushman's Newbery Honor-winning book tells the story of a medieval girl who works to avoid the marriage her father has arranged for her during her 14th year.Contained in this program is Catherine's diary -- Catherine, called Little Bird or Bird...
On a frosty morning sometime in the fourteenth century, in a village somewhere in England, a gift known only as Brat was sleeping in a dung heap."You, girl. Are you alive or dead?"When she opened her eyes, she saw an important-looking woman...