The acclaimed story of a timeless place that one day wakes up to find itself in the jaws of history: "An exuberant mixture of history and romance, written with a wit that is incandescent" (Los Angeles Times Book Review).The place is the Greek island ...
A POWERFULLY EVOCATIVE AND EMOTIONALLY CHARGED NOVEL FROM THE ACCLAIMED AUTHOR OF CORELLI'S MANDOLINThey were an inseparable tribe of childhood friends. Some were lost to the battles of the First World War, and those who survived have had ...
From the acclaimed author of Corelli's Mandolin, here is a sumptuous, sweeping, powerfully moving new novel about a British family whose lives and loves are indelibly shaped by the horrors of World War I and the hopes for its aftermath.  ...
From the acclaimed author of Corelli's Mandolin and Birds Without Wings comes an intimate new novel, a love story at once raw and sweetly funny, wry and heartbreakingly sad. He's Chris: bored, lonely, trapped in a loveless, sexless marria...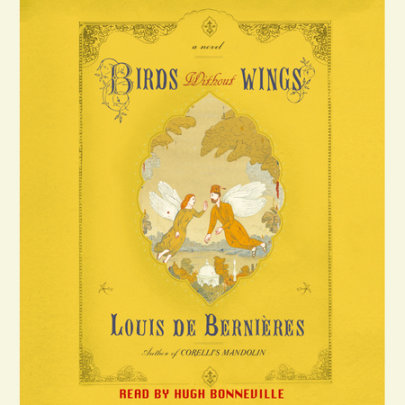 Birds Without Wings traces the fortunes of one small community in southwest Turkey (Anatolia) in the early part of the last century—a quirky community in which Christian and Muslim lives and traditions have co-existed peacefully over the cent...