In her luminous new novel, Barbara Delinsky explores every woman's desire to abandon the endless obligations of work and marriage—and the idea that the most passionate romance can be found with the person you know best. Emily Aulenbach is...
"Sunlight and Joy" is Barbara Delinsky's heartwarming story about a couple relearning how to appreciate the simple things. Also included is an exclusive conversation with Barbara about what inspires her writing and an advance peek a...
A pregnancy pact between three teenaged girls puts their mothers' love to the ultimate test in this explosive new novel from Barbara Delinsky, "a first-rate storyteller who creates characters as familiar as your neighbors." (Boston Globe)...
Following the success of The Secret Between Us, a book the Boston Globe hailed as "one of her best," Barbara Delinsky returns with another moving and deeply satisfying novel, this one about the unique and emotionally complex world of sibl...
Nothing will break this mother-daughter bond. Not even the truth.Deborah Monroe and her daughter, Grace, are driving home from a party when their car hits a man running in the dark. Grace was at the wheel, but Deborah sends her home before the police...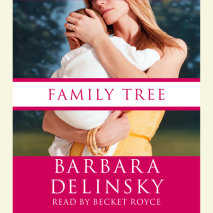 Dana Clarke has always longed for the stability of home and family–her own childhood was not an easy one. Now she has married a man she adores and is about to give birth to their first child. But though her daughter is born beautiful and health...