Edward Bloor
How I became a reader:
I think, like a lot of readers, I got my start because I had nothing better to do. One day when the TV was broken and no one was around and I had no money to do anything else, I picked up a book. What began as a desperate attempt to kill time, at some point, turned into what I actually chose to do with my time. I can remember the feeling of being anxious to get back to a book to find out what would happen next, and the feeling of being sorry that a book was coming to an end. Since those early days, reading a book has always been an entertainment option for me, and I count myself lucky for that. Had I the range of options that kids have today, it probably wouldn't have happened. Like everybody else, I'd just be staring at a laptop all day or poking at my phone, sending misspelled, ungrammatical instant messages to fellow nonreaders.

How I became a writer:
I loved reading. It truly did entertain me and inform me. I loved watching movies, too, for the same reasons. In fact, I can remember a time when I truly liked every book I read and every movie I saw. That was a golden era and, of course, nothing gold can stay. I soon started to read books and watch movies that I did not like. At some point, I started to resent such books and movies and think that even I could do better. That's when I became a writer, albeit a bad one. I started writing funny, semi-plagiarized stories to amuse family and friends. Family and friends didn't really care how good they were, or if they were semi-plagiarized. Like me in my golden age, they liked everything they saw. Their positive feedback, though, gave me a whole new identity. I can remember the feeling, the great feeling, of having entertained people with my writing, and I continue to pursue that feeling today.

What is real in my novels:
In Tangerine, the soccer playing and the inside middle school stuff are real. I played soccer from the age of eight right into college. I taught in a middle school in Florida. I am also married to a middle school teacher, and I have two kids who went to middle school. I am all over that topic.

In Crusader, the mall politics, the inside high school stuff, and the poverty are real. I worked in several malls, I taught in a high school, and I lived with very little money. I never want to do any of those things again.

In Story Time, the standardized testing is real. I work in educational publishing, actually developing tests that school districts use to suck the life out of reading and writing. I wrote this novel as a kind of penance. The undervaluing of teachers is, of course, real too.
In London Calling, the New Jersey childhood and the Catholic school experience are real. I am the sixth generation of my family to have lived Trenton, New Jersey, a city where, at least in the 1950s and 60s, all the white kids attended Catholic schools. My family was originally from England, as is my wife's. We made two trips there while I was working on this novel, so many of the things in London and York are real, too.
Read More +
1 results
page 1 of 1
view
sort by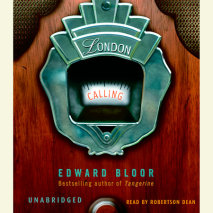 Martin Conway comes from a family filled with heroes and disgraces. His grandfather was a statesman who worked at the US Embassy in London during WWII. His father is an alcoholic who left his family. His sister is an overachieving Ivy League graduate...