From the author of the beloved New York Times best-selling The End of Your Life Book Club, an inspiring and magical exploration of the power of books to shape our lives in an era of constant connectivity. Why is it that we read? Is it to pass time? T...
"What are you reading?" That's the question Will Schwalbe asks his mother, Mary Anne, as they sit in the waiting room of the Memorial Sloan-Kettering Cancer Center. In 2007, Mary Anne returned from a humanitarian trip to Pakistan an...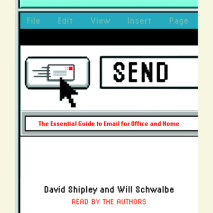 • When should you email, and when should you call, fax, or just show up?• What is the crucial–and most often overlooked–line in an email?• What is the best strategy when you send (in anger or error) a potentially career-...