"An addictive Rubik's Cube of vice that keeps turning up new patterns of depravity… a satire of writerly ambition wrapped in a psychological thriller… A Ladder to the Sky is an homage to Patricia Highsmith, Oscar Wilde and Edgar Allan Poe, but its execution is entirely Boyne's own.
Named Book of the Month Club's Book of the Year, 2017
Selected one of New York Times Readers' Favorite Books of 2017
Winner of the 2018 Goldsboro Books Glass Bell Award

From the beloved New York Times bestselling author of The Boy In the Striped Pajamas, a sweeping, heartfelt saga about the course of one man's life, beginning and ending in post-war Ireland

Cyril Avery is not a real Avery -- or at least, that's what his adoptive parents tell him.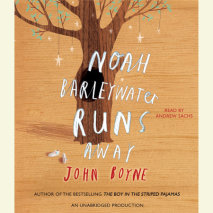 Eight-year-old Noah's problems seem easier to deal with if he doesn't think about them. So he runs away, taking an untrodden path through the forest.

Before long, he comes across a shop. But this is no ordinary shop. it's a toyshop, full of the most amazing toys, and brimming with the most wonderful magic.
BONUS FEATURE. Conversation between the author and the editor, David Fickling.

Berlin 1942

When Bruno returns home from school one day, he discovers that his belongings are being packed in crates. His father has received a promotion and the family must move from their home to a new house far far away, where there is no one to play with and nothing to do.