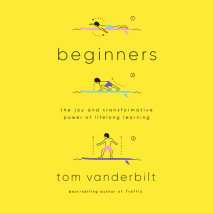 The best-selling author of Traffic and You May Also Like now gives us a thought-provoking, playful journey into the transformative joys that come with starting something new, no matter your ageWhy do so many of us stop learning new skills as adults? ...
Why do we get so embarrassed when a colleague wears the same shirt? Why do we eat the same thing for breakfast every day, but seek out novelty at lunch and dinner? How has streaming changed the way Netflix makes recommendations? Why do people think t...
Driving is a fact of life. We are all spending more and more time on the road, and traffic is an issue we face everyday. This audiobook will make you think about it in a whole new light.We have always had a passion for cars and driving. Now Traffic o...