From "one of the great (greatest?) contemporary popular writers on economics" (Tyler Cowen) comes a smart, lively, and encouraging rethinking of how to use statistics. Today we think statistics are the enemy, numbers used to mislead and c...
A lively history seen through the fifty inventions that shaped it most profoundly, by the bestselling author of The Undercover Economist and Messy.   Who thought up paper money? What was the secret element that made the Gutenberg ...
"Utterly fascinating. Tim Harford shows that if you want to be creative and resilient, you need a little more disorder in your world." —Adam Grant, New York Times-bestselling author of Originals and Give and Take"Engrossing.&r...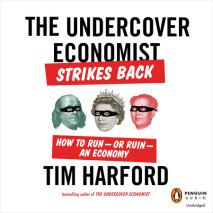 A provocative and lively exploration of the increasingly important world of macroeconomics, by the author of the bestselling The Undercover Economist.Thanks to the worldwide financial upheaval, economics is no longer a topic we can ignore. From polit...
Life sometimes seems illogical. Individuals do strange things: take drugs, have unprotected sex, mug each other. Love seems irrational, and so does divorce. On a larger scale, life seems no fairer or easier to fathom: Why do some neighborhoods thrive...