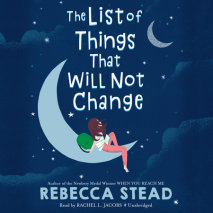 "An absolute original . . . a story that kids will love." --R. J. Palacio, bestselling author of Wonder Bea's family may change, but their love for each other does not in this soon-to-be classic by the Newbery Award-winning author of When You Reach M...
New York Times bestselling authors Wendy Mass and Rebecca Stead, masterminds of classic middle-grade fiction, come together to craft a magical story about the enduring power of friendship.It's been five years since Livy and her family have visited Li...
This brilliant, New York Times bestselling novel from the author of the Newbery Medal winner When You Reach Me explores multiple perspectives on the bonds and limits of friendship. Long ago, best friends Bridge, Emily, and Tab made a pact: no fi...
The instant New York Times bestseller from the author of the Newbery Medal winner When You Reach Me: a story about spies, games, and friendship. The first day Georges (the S is silent) moves into a new Brooklyn apartment, he sees a sign taped to...
PETER IS THRILLED to leave New York City to accompany his parents on an expedition to Greenland to study global warming. There he has visions of things that should be too far away for him to see.Generations ago, the people of Thea's community w...
"Like A Wrinkle in Time (Miranda's favorite book), When You Reach Me far surpasses the usual whodunit or sci-fi adventure to become an incandescent exploration of 'life, death, and the beauty of it all.'" —The Washington Post This New...