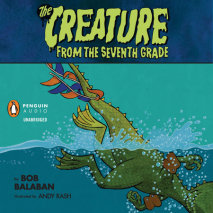 Charlie's problems have gotten monstrously big…

There's a thief in town, and all signs point to twelve-year-old Charlie Drinkwater. Once you spontaneously morph into a giant mutant dinosaur in the middle of the school day, people will suspect you of just about anything.
From award-winning actor-writer-producer-director Bob Balaban comes a hilarious new series, perfect for fans of Diary of a Wimpy Kid

If popularity were a score between one and ten, Charlie Drinkwater would be a zero. He's nerdy and unathletic, and to top it all off, he's suddenly morphed into a giant mutant sea creature sometime between first-period science class and third-period English.