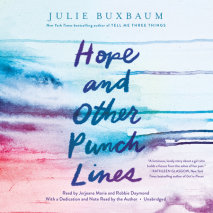 The New York Times bestselling author of Tell Me Three Things and What to Say Next delivers a poignant and hopeful novel about resilience and reinvention, first love and lifelong friendship, the legacies of loss, and the stories we tell ourselves in ...
"What to Say Next reminds readers that hope can be found in unexpected places." –Bustle.comFrom the New York Times bestselling author of Tell Me Three Things comes a story about two struggling teenagers who find an unexpected connection ju...
A New York Times BestsellerWhat if the person you need the most is someone you've never met? Funny and romantic, this tug-at-your-heartstrings contemporary YA debut is perfect for readers of Rainbow Rowell, Jennifer Niven, and E....
The complexities of a friendship. The unexplored doubts of a marriage. And the redemptive power of literature...Julie Buxbaum, the acclaimed author of The Opposite of Love, delivers a haunting, gloriously written novel about love, family, and the sec...
With perfect pitch for the humor and heartbreak of everyday life, Julie Buxbaum has fashioned a heroine who will be instantly recognizable to anyone who has loved and lost and loved again.When successful twenty-nine-year-old Manhattan attorney Emily ...