America meant "freedom" to the immigrants of the early 1900s—but a freedom very different from what they expected.  Cities were crowded and jobs were scare.  Children had to work selling newspapers, delivering goods, and laboring swea...
Nonfiction master Russell Freedman illuminates for young readers the complex and rarely discussed subject of World War I. The tangled relationships and alliances of many nations, the introduction of modern weaponry, and top-level military decisions t...
Abraham Lincoln stood out in a crowd as much for his wit and rollicking humor as for his height. Here is a warm, appealing biography of our Civil War president.Russell Freedman begins with a lively account of Abraham Lincoln's boyhood, his car...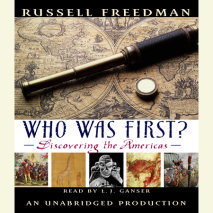 Historians still agree about the date of Columbus's voyage. But did this European adventurer discover America? We now know that certain explorers from other parts of the globe set foot on American shores long before 1492–and that others m...