THE INSTANT NEW YORK TIMES BESTSELLER. From Jay Asher, #1 New York Times bestselling author of Thirteen Reasons Why, comes a holiday romance that will break your heart, but soon have you believing in love again. . . .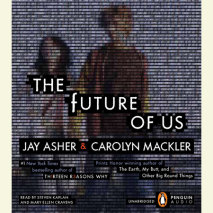 It's 1996, and less than half of all American high school students have ever used the Internet.

Emma just got her first computer and an America Online CD-ROM.

Josh is her best friend. They power up and log on--and discover themselves on Facebook, fifteen years in the future.
THE #1 NEW YORK TIMES AND INTERNATIONAL BESTSELLER

..SOON TO BE A NETFLIX ORIGINAL SERIES..

"Eerie, beautiful, and devastating." —Chicago Tribune

"A stealthy hit with staying power.