An extraordinary memoir about the cutting-edge brain therapy that dramatically changed the life and mind of John Elder Robison, the New York Times bestselling author of Look Me in the EyeNAMED ONE OF THE BEST BOOKS OF THE YEAR BY THE WASHINGTON ...
The slyly funny, sweetly moving memoir of an unconventional dad's relationship with his equally offbeat son—complete with fast cars, tall tales, homemade explosives, and a whole lot of fun and trouble   Misfit, truant, delinquent. J...
"I believe those of us with Asperger's are here for a reason, and we have much to offer. This book will help you bring out those gifts." In his bestselling memoir, Look Me in the Eye, John Elder Robison described growing u...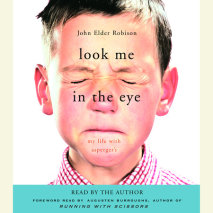 Ever since he was small, John Robison had longed to connect with other people, but by the time he was a teenager, his odd habits—an inclination to blurt out non sequiturs, avoid eye contact, dismantle radios, and dig five-foot holes (and stick ...