From the bestselling author of Thinking, Fast and Slow, the co-author of Nudge, and the author of You Are About to Make a Terrible Mistake! comes Noise, a revolutionary exploration of why people make bad judgments, ...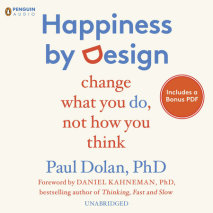 This is not just another happiness book. In Happiness by Design, happiness and behavior expert Paul Dolan combines the latest insights from economics and psychology to illustrate that in order to be happy we must behave happy Our happiness is experie...
The guru to the gurus at last shares his knowledge with the rest of us. Nobel laureate Daniel Kahneman's seminal studies in behavioral psychology, behavioral economics, and happiness studies have influenced numerous other authors, including Steven Pi...